Posts for: February, 2012
By Constance E. Smith, D.D.S.
February 16, 2012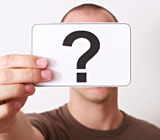 When it comes to cosmetic dentistry, we have numerous techniques that we can use to produce a dazzling smile while restoring or helping you maintain optimal oral health. From tooth whitening and gum contouring to bonding and veneers, see how much you really know about cosmetic dentistry by playing our matching game.
Words to match:
Whitening
Bonding
Enamel shaping
Orthodontics
Veneers
Crowns and bridgework
Implants
Gum contouring
______ is a minor surgical procedure in which we alter the position of the gum tissue and sometimes even the underlying bone.
______ is a treatment option that is not permanent and may require several applications to achieve the desired color results.
______ is a restorative technique that involves applying an a tooth colored filling material (composite resin) to a tooth that is color-matched and shaped to restore a decayed or damaged tooth.
______ is a treatment option for restoring heavily damaged teeth or replacing missing teeth.
______ is a procedure in which small amounts of enamel, a tooth's outer layer, is removed to reshape it to improve the look of a tooth.
______ is a minor cosmetic procedure in which we apply a peroxide-based material to bleach out minor stains and discoloration from teeth.
______ is a procedure in which we permanently replace a missing tooth by attaching a crown (artificial tooth) to a titanium post that has been surgically placed within the jaw.
______ is a treatment option in which teeth are aligned into a proper position giving a more attractive appearance. It is often used in conjunction with other cosmetic procedures.
______ is a cosmetic technique where we place a custom-designed, thin shell of tooth-colored material (usually porcelain) to the front surface of a tooth.
______ is the most common technique for repairing chipped, broken or decayed teeth. It may also be used to alter the shape of a small or irregular tooth.
Answers: 1) H. 2) A. 3) B. 4) F. 5) C. 6) A. 7) G. 8) D. 9) E. 10) B
To learn more about cosmetic and restorative dentistry, continue reading the Dear Doctor magazine article "Beautiful Smiles by Design." Or you can contact us today to schedule an appointment to discuss your specific questions.
By Constance E. Smith, D.D.S.
February 08, 2012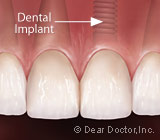 The best method for permanently replacing a missing tooth is with a dental implant. But did you know that there are two main techniques for placing implants? Implants can be placed either using a one stage or a two stage surgical technique, and as their names suggests, one is performed in one step while the other requires a second surgery.
With a one-stage procedure, a healing abutment is placed at the time of surgery. An abutment is a connector that attaches the implant from the bone into the mouth and which protrudes through the gum tissues. Following a 3 to 6 month healing period in which the implant fuses to the bone, a crown is then placed on the implant restoring the immediate appearance of a healthy, normal tooth. One-stage implant systems are generally used when the bone quality is good, guaranteeing good initial implant stability. They are also used when cosmetics is not a concern, such as the back areas of the mouth.
Under special conditions an implant can be placed and a crown placed on top of it at the same time. However, this is a very special circumstance requiring ideal conditions and surgical experience as well as crown fabrication know-how. It is generally safer and wiser not to subject an implant to biting forces until it is fully healed and integrated with the supporting bone.
A two-stage procedure is typically used for replacing teeth where there is no immediate need for a cosmetic solution and when more of a margin of safety is required. With this approach, the implant(s) are placed into the jawbone and the gum tissues cover them. They are not exposed to the mouth, but stay buried and left to heal. Once healed, a second surgery is performed to attach an abutment for securing the crown in place. This approach is used when there is poorer bone quality or quantity. This may make it necessary to regenerate bone around the implant at the time of its placement. There may also be other health considerations dictating that a two-stage approach may be indicated.
Depending on your individual situation and medical status, our implant team will determine which approach is best for you. To learn more about these two procedures, read the Dear Doctor article, "Staging Surgery In Implant Dentistry." You are also welcome to contact us to discuss your questions or to schedule an appointment.