Posts for: January, 2012
By Constance E. Smith, D.D.S.
January 23, 2012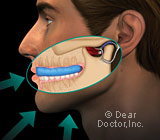 Nearly everyone who has ever played a sport, or had a child participate in one, has had that panic-filled moment when they witness an injury. And when you consider that there are more than 22,000 dental injuries each year in children younger than 18 years of age, you see there is fact to backup this concern. This is just one reason why we strongly encourage all of our patients who are involved in activities such as football, soccer, hockey, wrestling, lacrosse, skateboarding, field hockey and more to wear one of our custom-fitted professional mouthguards. It is especially true for basketball and baseball, which are responsible for the largest number of dental injuries.
The following are some key issues to help you understand the importance and advantages mouthguards offer.
Is there a way to determine who is at the highest risk for sports injuries?
Yes there are several. Age, gender, dental anatomy, and the type of sports being played are the four categories used to measure the risks for dental injuries. Young male teens still top the list of most likely to be injured; however, the gap is closing with more females getting involved in sports. Learn which sports or exercise activities made the American Dental Association's list of recommendations for using a custom mouthguard, when you continue reading "Athletic Mouthguards."
What's the difference between a "boil and bite" mouthguard and a professionally made mouthguard?
We are often asked this very important question. While some over-the-counter (OTC) mouthguards provide what is advertised as a "custom-fit" to your teeth, it is nowhere near the fit — and thus protection — you receive from our mouthguards that are crafted from precise molds of your teeth. Additionally, because all aspects of our mouthguards are tailored to each specific mouth, they provide much more protection and comfort. This important fact can enhance performance as the athlete can literally breathe easier while wearing one of our mouthguards.
What can I do if I witness a dental injury?
The first important fact to know is that you do not have to be a dental or healthcare professional to assist. However, before jumping in to help out, consult Dear Doctor's Field-Side Guide to Dental Injuries. This pocket-sized, quick-reference guide details what you should do at the scene of a dental injury based on the type of injury. But best of all, it is available to you free of charge from Dear Doctor.
Want to know more?
Contact us today to discuss your questions or to schedule an appointment.
By Constance E. Smith, D.D.S.
January 13, 2012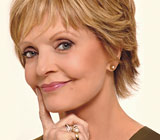 Florence Henderson, star of one of television's most beloved situation comedies, is still actively engaged in a variety of projects at 75-plus years of age. Her bright smile was part of her character as Carol Brady in The Brady Bunch, a popular sitcom that played for five seasons from 1969 to 1974. Though the show was discontinued, syndicated episodes continue to play in the U.S. and 122 other countries.
"I played Carol as the mother I always wished I had," she told Dear Doctor magazine. Her portrayal of mother and wife in a blended family with six children won her the Smithsonian Institution's TV Land Pop Culture Icon Award, which is on display in the National Museum of American History in Washington, DC.
After her successes on Broadway and in television, she was selected for numerous product endorsements, and The Wall Street Journal ranked her #5 in their top ten television endorsers based on viewer satisfaction. One of the products she endorsed was Polident, a brand of denture cleaners and adhesives. However, Henderson has revealed that she has her own natural teeth and does not wear dentures. Her advice to others who want to keep their natural teeth is to pay attention to prevention. "I think the most important thing one can do as with any health issue is prevention," she said. "Flossing, brushing, and regular dental checkups are vitally important if you want to keep your natural teeth."
When she was 22, she says, she had four impacted wisdom teeth removed at the same time. This experience made her aware of the importance of dental care, and since then she has had a checkup every six months. Wherever she travels, she says that she always has mouthwash, dental floss, toothpaste, and a toothbrush on the set.
Contact us today to schedule an appointment to discuss your questions about tooth care. You can learn more about Florence Henderson by reading the Dear Doctor magazine interview "Florence Henderson, America's Favorite TV Mom Has Many Reasons to Smile."